An onboarding and training program for volunteer mentors will be put together and maintained by RYSE.
The mentor training modules are designed to prepare potential mentors and guarantee that mentors are thoroughly aware and informed on the refugee experience. The goal is to ensure that all mentors are working in non-oppressive and anti-racist lenses.
The international refugee resettlement system
Mentors will be able to explain the process refugees go through to be resettled in the U.S. and what happens once they arrive. Mentors will understand that every journey is different and that it is important to not make assumptions and follow their mentees lead when it comes to talking about their past experiences as well as their current experiences and future plans.
Objective: Mentors understand the refugee resettlement process and the complex process refugees go through once leaving their home countries. Mentors understand that not all journeys are the same and that many refugee youth have been born or spent much of their life in a neighboring countries waiting for resettlement and may have complex feelings about the term "refugee".
Read: UNHCR US Resettlement Fact Sheet

Write down three (3) things that surprised you:

Learning Check: 

Answer the following questions:

What percentage of refugees worldwide are resettled?

What three countries host the most refugees?
How many resettlement agencies are there in the U.S.?
What region of the world did most refugees who were resettled in the U.S. in 2019 come from?
Any person who flees their country is eligible for resettlement. True or False?

Explore: "Refugee Voices" Gallery

Think about the following questions:

What did you learn from this story that you didn't know before?

How does this story relate to your own experiences?

How might knowing these stories and others from your own life inform your work as a mentor? 

Further Exploration: Not all resettlement journeys are the same. In recent years there have been a range of ways people may be resettled within the U.S.

Think about the following questions:

How does resettlement differ for recent arrivals from Afghanistan or Ukraine?

How might this influence your work as a mentor?

Wrap-Up: Think back about all the different resettlement journey's you've explored in this lesson. What are some important biases and stereotypes about refugees that are disputed by these narratives? How will you use this knowledge to inform your work as a mentor?
Objective: Mentors are aware of some of the challenges and opportunities facing refugee youth once they are resettled in the U.S. Mentors identify what is and isn't their role in the resettlement process and how they can support in helping refugees thrive in their new communities.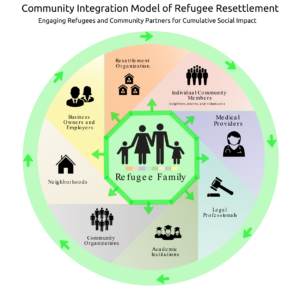 Identify where and how you as a mentor fit into this process:

Learning Check: Answer the following questions. For each question, decide if this the role of a caseworker or the mentee. It's okay if you don't know!

Develop engaging activities along with the mentee to meet their goals. – [resettlement organization / mentor / not sure]

Support with signing up for legal documents and accounts.

Be a friend or ally in preparing for interviews and appointments.

Help find good housing and provide basic household goods. 

Make calls to help schedule medical or employment services appointments.

Meet regularly and consistently with refugee youth mentee at a pre-arranged time to check in on how they are doing and work together on any language, academic or employment needs. 

Read: the article "What the American dream looks like for immigrants" by Anne Helen Petersen. Pick one narrative to reflect on. 
Reflect:

Why did you pick this person? What part of their story resonated with you?
Make a list of some of the challenges this person and their family faced when they moved.
Make a list of some of the strengths this person and their family brought with them.
Think about how this person's' needs and opportunities changed over time.

Explore: Look at these different examples of community resource maps. Note down some features you think would be useful and some that may be missing.
Activity: What resources exist in your community? How would you find out about them? Look at the example community map and start making one for your community. Start making a community resource map for your own community with key resources, information, and tools. You will build this together with your mentee with both of you adding to it over time, so this is just a first step. 
Wrap-Up: What are some of the challenges that young refugees face when they first resettle to the U.S.? How might these challenges change over time? How can you support them in findings ways to address these challenges in your role as a mentor?
Objective: Mentors will think about some of their own beliefs about what defines American society and cultures. Mentors will reflect on some of the beliefs refugees may have about the U.S. before they come to the U.S., and how these beliefs may change as refugees settle into life in America. Mentors will learn techniques for listening and talking about complex issues like culture, religion and identity when these come up with refugee mentees.
Opening Reflection: Think about the phrase "the American dream". What does it mean to you? What does it mean to others? 
Activity Reflection: Think back to the Community Resource map you made last lesson. Think about the specific neighborhoods where refugees may live in your community.

What language, cultural, and economic resources exist in this community?
What might be surprising to refugees about this community if this is their first time living in America?

Read: "How can you help refugees adjust" in Mentoring Refugees: A Handbook for Volunteers pgs. 12-13 
Watch: the video Stories of Welcome.
Reflect: on how your role as a mentor may impact you as well as the refugee you work with. How does this relate to your initial thoughts during the opening reflection about the "American Dream"?
Further Exploration: The First Days Project shares stories of immigrants' and refugees' first experiences in the United States. Feel free to browse the audio, visual or multimedia stories, and share your own. Think about how these early impressions inform refugees experiences, and how they may change over time.
Mentorship principles when working with refugee youth
Mentors will learn about key principles when working with youth, including building trust, confidentiality, strength-based approaches, following youth's lead, and maintaining healthy boundaries.
UNDER CONSTRUCTION
Objectives: Mentors will understand what it looks like to take a strengths-based mentoring approach 
Mentors will reflect on the importance of boundaries and stability when working with young people in periods of transition. Mentors will go through different scenarios and practice identifying what the key principles of being a youth mentor look like in practice. ch and reflect on the strengths young people bring with them. Mentors will learn about the principles for forming supportive, genuine and healthy relationships with young people and be able to distinguish how their role differs from that of friends or other adults in a young person's life.
UNDER CONSTRUCTION
Objectives: Mentors will understand that trauma looks different for different people and can surface in unexpected ways. Mentors will be able to learn about trauma-informed practices and what that means when working with refugee youth. Mentors will learn about red flags and when they should seek support from case workers and/or other members of the resettlement team. 
Working with speakers of other languages
Objectives: Mentors will be able to understand the challenges of learning another language through immersion and develop techniques for communicating in simple, respectful and engaging ways with mentees.
Watch: Clase de matematicas and try to follow the teacher's instructions. 

After 3-5 minutes stop and reflect on how you felt.

Reflect: What did you understand? What didn't you understand? What did you use to try and understand what the teacher was saying?
Explore: 

An asset-based approach to teaching is one that is

grounded in what students can do rather than what they cannot do or areas of weakness

. It is an embodiment of growth mindset in instruction.

Asset-based approach simply means rather than viewing someone by what they don't know, you start by thinking about all the things they do know already. When it comes to language learning, this means valuing the fact that your mentee already is an expert in one or more languages and has a lot of knowledge, experiences and thoughts in their native language. Your role is to see and value this knowledge, and support them in learning to express themselves in an additional way. 

Sometimes it can be frustrating when there are communication challenges, so it's important to remember this approach. Don't think about what your mentee doesn't know, or think that because they can't express it in English they don't understand something. Try to build on their existing language skills and knowledge by using translation and diverse forms of communicating as much as possible. Learning some words of your mentee's first language can also help empower your mentee and show you respect their existing knowledge and culture. [Further reading: 3 Steps to Developing an Asset-Based Approach to Teaching]

Explore: 

A world of languages
What are 3 things that surprised you about the facts on this page?

Identify: 

some ways we can communicate in addition to written and spoken language – 

Pictures

Body language 

Symbols 

Modelling

Moderating pace and tone

Identify:

some techniques for clearer verbal communication –

Slow down. Pay attention to how quickly you are speaking and your tone. 

Use clear phrases 

Avoid too many idioms 

Speak in full sentences – adult learners are not children. Speak using the structures and vocabulary that your mentee will use in their daily life. 

Repeat words, but when there is still confusion, avoid saying the same thing over and over again. Try to find different ways of explaining something. 

Use a variety of forms of expression at the same time to make connections: writing, speaking, visuals 

Leave wait time for your mentee to process what you are saying. They need to translate, process, and then re-translate their response. Be patient.

Wherever possible use multiple forms of communication – pictures, expressions, actions, etc. to help give meaning to new words. 

Read:

Free City Refugee Mentor Handbook

ESL Guide pg.24

Further Exploration: watch "Immersion"

Identify some of the challenges the different children have in the video.

How does the teacher respond?
What you can do as a mentor that is different from the teacher's role in this story?
UNDER CONSTRUCTION
Objective: Mentors will reflect on a strengths-based approach to language learning and identify ways to incorporate simple bilingual techniques into their mentoring practices. 
Hook: Language match with flashcards. 

Content: Show a map of the world's languages. Show a map of speakers of languages. What surprised you? Show a graph showing how many people speak multiple languages around the world. Reflect: What surprised you about this list.

Activity: Watch a video about multilingualism. Reflect on the idea that speaking multiple languages is an asset and a skill. Not speaking English is not a deficit. By speaking multiple languages you can bring new ideas and words together. 

Make a list of some of the words in the English language that come from other languages. 

Explore that not everyone is literate in every language they speak, and that people have varying levels of fluency so it's important to use different modes of communication and not just rely on written text.

Review: some common strategies for bilingual communication. Then circle back to using multiple formats of expression. 
Reflect: How can you bring a positive approach to multilingualism into your work as a mentor?
UNDER CONSTRUCTION
Objective: Mentors will reflect on their own learning styles and some of the best learning experiences in their lives. Mentors will think about engaging ways to teach language skills through real-life activities. 
Read: Active learning for daily life

Free City Refugee Mentor Handbook

pgs. 25-29

Read: Activity ideas for mentoring sessions

Mentoring Refugees Handbook for Volunteers

pgs. 19-29

Activity: Develop a session plan using the skills discussed in this course and the ideas presented in this lesson. How would you adjust it according to your mentees' experiences/interests/language strengths?
A compilation of reference materials and information to assist in creating strong mentors and coaches. 
Resource List